Gilgamesh pulls his guests through a Veil to meet his other faces. There are nine faces, in total, in Ceaseless Fun's latest installment in their Outline of a Human series, They Who Saw the Deep, each a different representation of the same man; the oldest of epic heroes. The Epic of Gilgamesh, taught in so many literary classes, is the ancient Mesopotamian tale of Gilgamesh, King of Uruk, and his guilt and subsequent quest for eternal life following the death of his closest friend, Enkidu.  It is a story of pride, tempered by fear of the unknown, the agony of loss and death. Ceaseless Fun has adapted this ancient, obtuse tale, and fractured it into parts: Nine faces, in a powerfully detailed space, updating the oldest story in the world into modern vignettes. "You can turn someone into a god just by looking at them," Gilgamesh says, and his audience is about to prove it.
They Who Saw the Deep (a literal expansion on the alternate Gilgamesh title, He Who Saw the Deep) is a sandbox-style, explorable series of character pieces that allows the audience member to engage in this exploration of loss and legacy through so many different lenses, always leading to the same, communal place. Sometimes challenging, always provoking, creator Derek Spencer and creative producer Meredith Treinen have once again beautifully instilled the essence of the human condition and the importance of community into their work.
True to form for Ceaseless Fun, They Who Saw the Deep benefits most from its strong cast, who display haunting and varied versions of the same character, disparate interpretations of the same emotional journey. Creator Derek Spencer, in a prime example of the innovative approaches Ceaseless Fun has come to be known for, collaborated on the script for TWSTD with cast members, allowing the actors a freedom of interpretation that brings a staggering level of intimacy to their colloquial role. As such, early one-on-one moments with the audience repeatedly coalesce into quiet ensemble scenes that suddenly explode outwards, splintering into intense monologues performed for small groups that showcase the anguish, intimacy, and acceptance of mankind's frailty and the impression that's left behind.
As one of our many Gilgameshes, Max Hersey moves with graceful strength throughout the piece, a calming influence who, if watched closely, has beautiful, silent interactions with his fellow cast.  Additionally, Scott Monahan seems the most natural Gilgamesh, awash with a bravado that is slowly tempered down by what he's lost, his endless eyes conveying his struggle; he moves his audience wordlessly, so much as a glance instantly binding him to his observers.  Meanwhile, in stark contrast, Matthew Maguire is a cacophonous roar of a performer, striding through his scenes, brash, posh, and wounded, the very embodiment of man's refusal to accept mortality.  He alternates effortlessly between a quiet, whispering rage at his own reflection, and screaming laments for how his own stubbornness has brought him low. His eyes streaming, his face like thunder, Maguire's performance is particularly stirring; his is a unique talent that manages to convey the overwhelming vastness of human emotion with the whole of his being. Jordan Lilly, Lauren Hayes, Juliet Deem, Mike Merchant, Soren Royer-McHugh, and Jinny Ryann round out this powerful group; their seemingly divergent performances shoving this once-antiquated tale into modernity.
Another aspect of TWSTD that showcases a uniquely Ceaseless Fun twist is the use of space and overall design of the production.  Art director Liam Moore, working with associate designer Britt Keller, lighting designer Ian Momii, and associate artists, have created a seemingly vast, explorable space.  The sparse decor of the opening level of the space is contrasted by the meticulous detail and fullness of the upstairs rooms; it reaffirms the "sandbox" nature of the work, encouraging the audience to explore it's secrets.  Dakota Loesch, also a Ceaseless Fun actor, here uses his musical skills to provide an ethereal atmosphere; his work is a staging for a myriad of vocal performances from Maguire, Lilly, and others that demonstrate the transfixing power of song as a tool to express emotion. Design and music both serve to make the performance come alive, enhancing the audience experience by stimulating natural curiosity.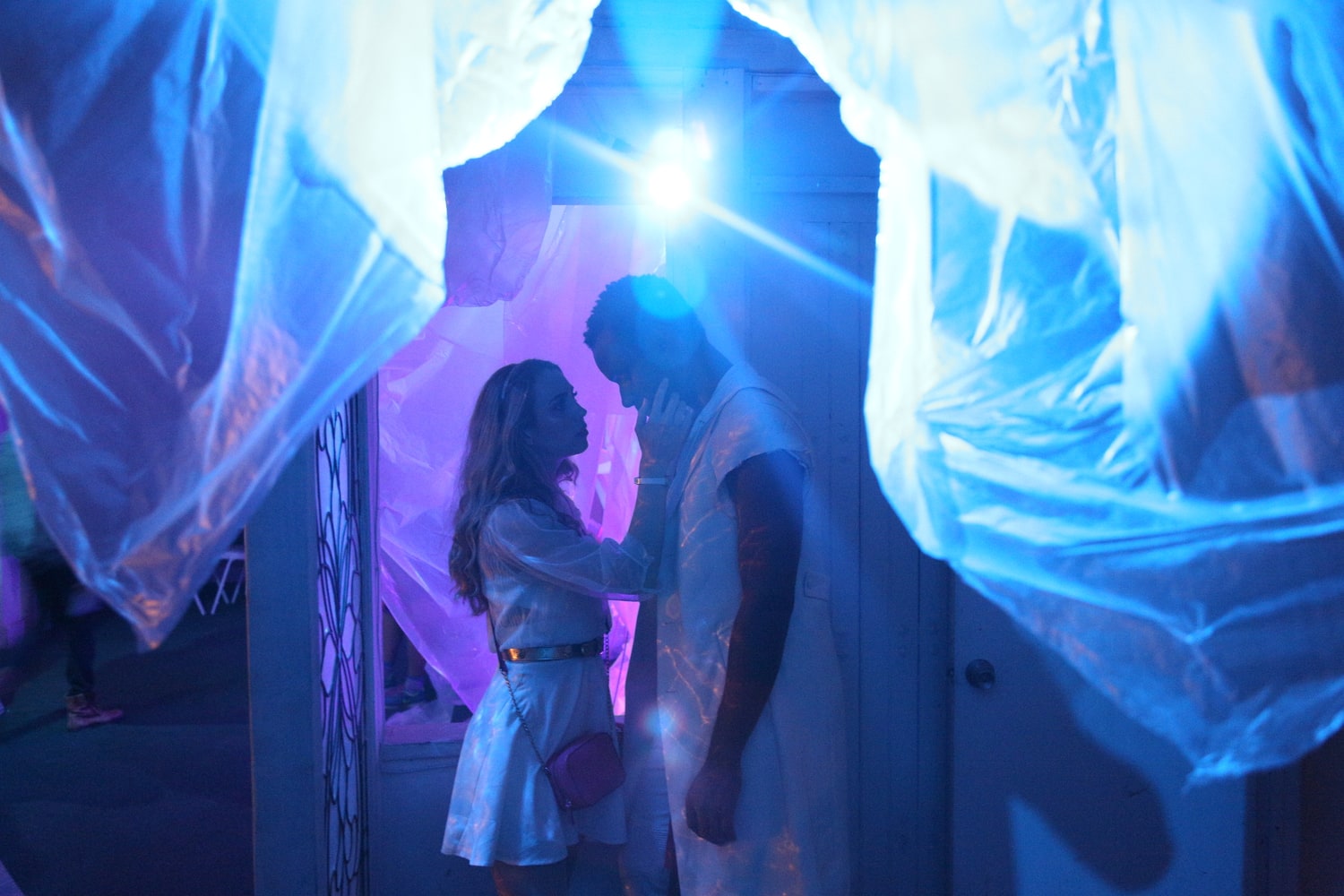 Perhaps the most striking thing about They Who Saw the Deep is the duality of audience as both silent observer and as the catalyst that propels Gilgamesh's narrative forward.  Truly, the very act of watching any of the performers causes that performer's story to advance.  As a consequence, a singular trip through TWSTD may provide only a quarter of the myriad paths available to participants, tempting a return to follow another.  Yet regardless of path, the audience themselves are more a part of the story being told here than they may know. Gilgamesh said it himself: "You can turn someone into a god just by looking at them."  And you can, by seeing all the different parts of them and how they are all parts of yourself; a reflection of Man. That is The Deep: the unknowable human situation, and the acceptance of the eventual end. In that sense, here in a hidden and remarkable space in Los Angeles, we are all made into a god, and we are all Gilgamesh. We as the audience have become the They in They Who Saw the Deep; we've journeyed and seen the fragility within our own kind through these performances, and we have not come back alone.
They Who Saw the Deep runs May 3rd through May 20th, 2018. Tickets are on sale now, available here. For more information, please visit Ceaseless Fun on their website, via their Facebook, or on Instagram or check out our event guide for more experiences.
---