I'm standing in an artist's studio. A mechanical woman sits on a stool in a corner. She has gears tattooed on her face and a giant wind-up mechanism sticking out of her back. The woman springs to life and steps off the stool. She scans the studio and notices me standing against the wall. We lock eyes and she motions for me to step forward. Though I'm a bit taken aback, I approach. She holds out her hand to me. I take it. We begin to dance in a circle. Slowly. Everyone in the room is watching us, but I feel like this magical moment is meant for me alone. Just then I hear footfalls on the metal landing outside. She pushes me away and dismisses me with a rough wave of her hand. Dejected, I regain my position against the wall but the mechanical woman has one final message for me. She puts her finger vertically against her mouth. This is to be our secret.
SOMETHING WICKED THIS WAY COMES
The California School of the Arts, San Gabriel Valley premiered Circle of Slumber from February 20-22 as an installment in the 20/20/20: Legends of Steampunk festival put on by the Orange County School of the Arts.  This 90-minute experience took place at the CSA campus in the San Gabriel Valley and transformed the outdoor courtyard and several classrooms into a Steampunk Otherworld. Circle of Slumber was a unique collaboration from students in the Creative Writing Conservatory, the Production & Design Conservatory, and the School of Dance. To be clear, these were original stories written by CSA students, produced by CSA students, and performed by CSA dancers.
The format for Circle of Slumber borrowed heavily from the granddaddy of all immersive theatrical productions, Punchdrunk's renowned Sleep No More. Participants donned an Eyes Wide Shut-style Venetian mask and were allowed free reign to follow whichever character and whichever path they wanted to explore. The multiple stories and numerous characters intersected in a variety of settings ranging from a graveyard to a witch's dwelling to a speakeasy to what appeared to be an Egyptian temple. Like Sleep No More, the performances repeated themselves throughout the night so multiple characters could be followed and missing story pieces could fall into place. Further, the language of this production was the language of dance and, like Punchdrunk's masterpiece, the choreography added a mysterious, almost alien quality to the proceedings that nicely tied everything together. Unlike Sleep No More, however, there was no nudity or particularly adult themes and was approachable for all ages.
GIVE SORROW WORDS
Themes of alienation and loss pervaded throughout Circle of Slumber's Otherworld. We followed characters in and out of stages of sickness and death. I found myself time after time investing in a character only to have them come down with the plague or stabbed and carted off to join the mountains of bodies piling up at the cemetery.  Though not using Sleep No More's Macbeth as source material, the original tales being told through dance here seemed to riff on the Bard's explorations of revenge, desperation, prejudice, and fatalism. I confess to not fully understanding everything that transpired during my ninety minutes in the Otherworld; but that is both the frustration and the charm of this sort of fare.
It is unfair to compare what is essentially a production created by high school students to the greatest immersive theatrical production in our lifetime. However, by modeling itself so obviously on Sleep No More the comparison is not invited. It is demanded. From the mask conceit to the sandbox layout to the language of dance to familiar settings to exact musical selections found in the McKittrick Hotel (Bernard Hermann and the Ink Spots were two notable matches), Circle of Slumber ambitiously shot for the stars by following in the footsteps of its lofty predecessor. The pleasant surprise is that Circle of Slumber achieved the mark with greater frequency than it missed.
WHERE SHALL WE THREE MEET AGAIN
CSA's performance was housed completely on the CSA campus within an outdoor courtyard and five adjacent classrooms accessible from long metal ramps. Though Circle of Slumber aped the settings from Sleep No More, it perhaps realized it could not compete with the intricately detailed labyrinth of the latter production and wisely chose a minimalist conceit. A hospital wing consisted of eight spare cots. A cemetery boasted a few cardboard tombstones. A temple was suggested by a circle of candles and a few masks resting on pedestals. The conceit worked and the suggestions provided just enough context to draw the viewer into the story without appearing amateurish or slapdash.
Audience members could stay as long as they wanted in each location and, needless to say, there was a lot of awkward bustling through crowds of onlookers moving in and out of the classrooms. However, there was a lot of space in each of the locations and, unlike some other immersive theater I've seen, I never felt like I couldn't see from any given vantage point.
Though the minimal spaces didn't allow for any prolonged one-on-one interactions, there were moments of breaking the fourth wall that made the proceedings feel truly immersive. Lucky participants got to dance with a mechanical assassin or interact with a witch in her lair. These moments weren't truly one-on-ones, as there were no hidden nooks or crannies, and the interactions were on full display for the rest of the audience. But there was no question that the intimacy was there.
TALES FILLED WITH SOUND AND FURY
As mentioned before, Circle of Slumber did not have the benefit of the grand backdrop of a familiar tale like Macbeth. Instead, these were tales in a "steampunk" setting written by students. As far as I could tell (having only a fragmented and cursory understanding of what I witnessed), the interlocking tales consisted of a battle between Egyptian and Japanese armies, a witch resurrecting a dead body to take revenge upon a lover, an artist risking her freedom to paint a portrait of a prostitute, an inventor falling in love with his mechanical creation, and a lesbian relationship ending in sorrow and death. These were parables and evoked feelings of despair and hopelessness. The simplicity of the tales matched the sparseness of the set design and produced an end result greater than the sum of its threadbare parts.
For the most part, the experience worked. There was magic in the stories. I felt like someone sitting around a campfire while a narrator told me simple tales that I didn't fully understand. The glaring exception, though, was the choice to occasionally use speech to announce a plot point. Every once in a while, a character would announce, "You seek revenge!" or "She painted a picture of a prostitute!" Though these pronouncements aided my understanding of what was going on, they were neither invited nor appreciated. Part of the magic of Sleep No More is that the participant has to piece together what is transpiring through multiple viewings of wordless dance. The audience member is a witness to the proceedings. If we didn't understand something, we would discuss any confusions later, after the show, or we would piece together our own understandings of what had transpired. Circle of Slumber's vocal outbursts effectively destroyed the careful spell it had otherwise been so successful in casting. Thankfully the announcements were rare.
AN ACTOR THAT STRUTS AND FRETS HIS HOUR UPON THE STAGE
The dancing was superb. The style mixed elements of ballet, jazz, and modern into a pastiche that brought to mind similar styles exhibited by Punchdrunk or Third Rail Projects. Standouts for me (and this listing is tempered by the fact that, though I tried to see as much as I could, I only could experience the performances that I happened upon throughout my ninety-minute journey) included Julissa Beltran as a sprightly and mischievous automaton and assassin. Julissa's interactions with the crowd were highlights, as were her twitchy mechanical movements, bringing to mind Daryl Hannah's Pris from Blade Runner. You always knew when Ashley Bachert entered a room, presaged by a bird-like shriek. Her voodoo witch was both soulful and cruel, and took a sadly human turn at her arc's end when she had to kill her lover. Other highlights saw Egyptian and Japanese acolytes and assassins dancing in a whirling barrage of blades, a fury-like attack upon an artist who had dared to risk too much with her art, and several haunting resurrections taking place in the hospital and the graveyard.
FINAL THOUGHTS
The immersive landscape in Southern California has yet to try something on the level of New York City's Sleep No More or Then She Fell. We have no permanent installation to match the McKittrick Hotel and, as of this date, the most ambitious sandbox productions were seasonal events like Haus of Creep or some of Darren Lynn Bousman's (Theatre Macabre) more recent experiences. Having had limited experience with putting on immersive productions, Circle of Slumber had the hubris to throw its mask into the ring with the big boys. Though it cannot hold a brief candle to the still reigning champ, CSA should be commended for an evening that I will remember for quite some time. There are no plans yet to reprise the Otherworld, but watch this space for more wicked things to come.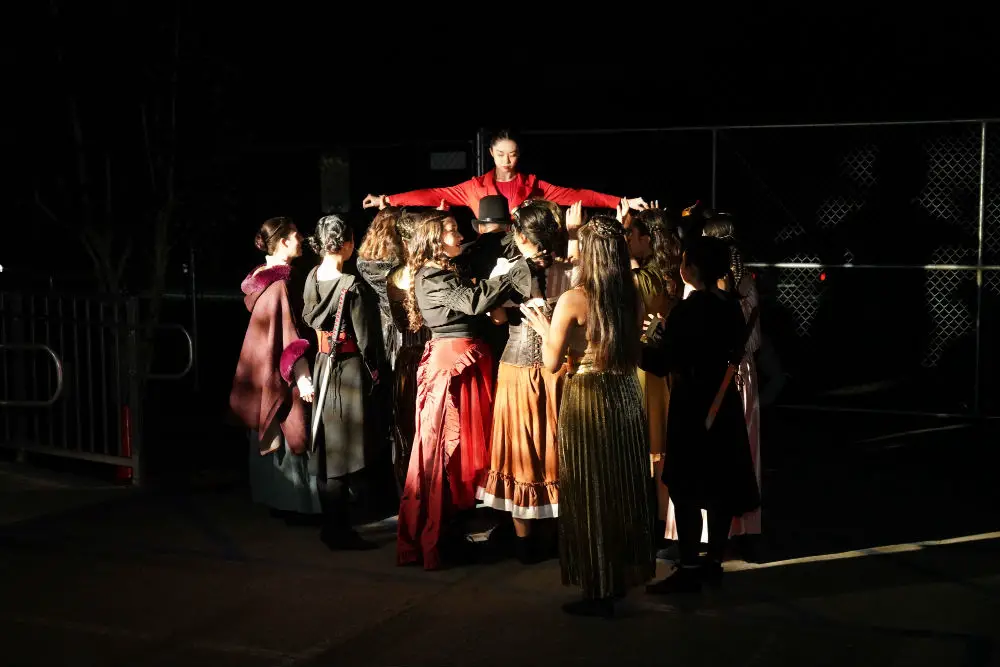 All photography courtesy of Kathryn Mueller.
---