"So, what should I do? Should I open the door?" Danny's waiting for my answer, or at least, I think it's Danny. I'm frozen. It's an impossible decision. There's no way I could possibly know, no way I could possibly make everything OK. There's no time left. I have to choose. I can't possibly, and yet I have to. I make my choice. Randomly? Subconsciously? Did I have any reason at all to justify the words that just came out of my mouth? "OK," Danny says, "You trusted me, so I'll trust you."
Claws is a remote, phone-based one-act by Candle House Collective. It is part of the Help! Collection, a set of two shows in which participants play the role of a volunteer at the Etcetera Helpline. This ubiquitous helpline is advertised as a resource for "help with life's inevitable 'everything else.'" In this case, Danny has called the helpline for advice on how to handle the monster he's trapped in his closet. Candle House Collective specializes exclusively in remote shows and festivals. Shows are always narrative-forward and performed over the phone. The shows are generally psychologically intense, with tones ranging from heart-wrenching to truly chilling.
Claws focuses on identity and relationships, investigating the consequences of taking people in our lives for granted. The narrative exposes the vulnerabilities in the process of building up one's sense of self. Participants are left contemplating the ways that their empathy and relationships make them who they are, and how fragile these bonds can be. Claws simultaneously evokes both melancholy and fear. A sense of urgency is created immediately when participants find Danny in a situation of pressing danger. His fear and confusion is contagious. Tension is increased as the participant feels a growing sense of helplessness in the face of Danny's distress. The overall mood of the piece is intense, dark, introspective, frightening, and tragic. Claws allows participants to witness a personal crisis, directly drawing comparisons between Danny's mistakes and the participant's own interpersonal oversights. Claws is compelling and frightening, yet also thought-provoking and deeply sad in turn. The narrative taps into fascinating mythology and responds to participant fear or confusion in a way that is highly engaging. It manages to convey a great deal of depth in a short period of time, something that participants have come to expect from Candle House Collective shows.
Vincent D'Avanzo's portrayal of Danny flawlessly conveys all the fear, regret, and confusion of the narrative. A fan favorite from the Under the Bed festival, D'Avanzo shines when portraying empathetic characters in moments of distress, standing at the crucial crossroads of life-changing decisions. On the other end of the spectrum, when the story calls for it, he manages to be utterly terrifying. The strength of his acting is seen in his ability to converge and diverge two different narrative voices seamlessly. His evocative performance leads participants through a fast-paced emotional rollercoaster where they are brought completely into the crisis of the moment and come to identify with the path that has led Danny to his downfall. Danny asks all the right questions and presses participants into making a difficult and haunting choice that left me speechless and introspective long after the show had ended. He reads as a highly memorable and relatable, tragic hero. Unsurprisingly for a Candle House Collective show, the acting is incredibly intimate, with participants being prompted into a high level of interaction. Danny tells the participant about his crisis, but it's as if they're in the room with him, wracking their brain for a solution to a problem that they fear is well beyond their ability to solve. The instinctual connection that participants feel to Danny serves to heighten the narrative payoff, and makes the darker moments that much more chilling as they feel that connection completely dissolve. Throughout the show, Danny is expressive, and every emotion comes through in a way that is resonant and impactful.
All of Candle House Collective's experiences take place over the phone, and are therefore uniquely accessible to participants in geographically remote locations. The brilliance of the experiences lie in the ability to convey such deep narrative and emotion through voice alone. In Claws, as in most productions by Candle House Collective, not only are participants given a great degree of choice, the choices also have high-stake consequences. Whatever the result of their choice, participants are left wondering if they could have done anything differently and avoid unpleasant consequences as a result. These questions often intentionally go unanswered. The result is a high-impact emotional journey, as participants become invested in characters who have chosen to trust them as a lifeline. This helpline format facilitates the story progression by fostering a sense of responsibility for the character's well-being in the participant from the very start of the experience. Through these choices, Claws presents an exceptionally thought-provoking and personal narrative, filled with layers and nuances of identity.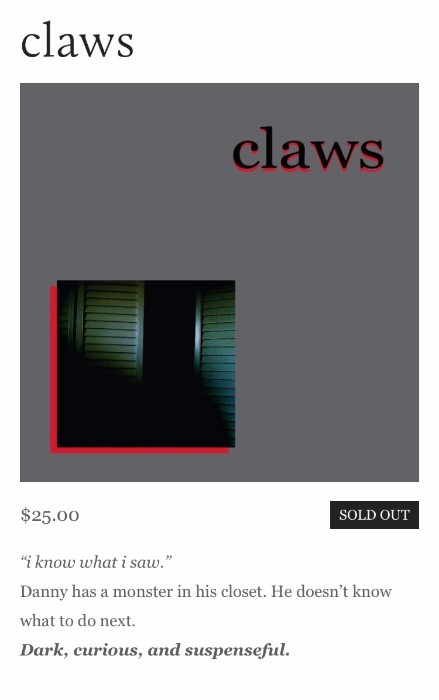 The strength of the Claws lies in its fast-paced emotional intensity that pulls participants into a vortex of high-pressure decisions and frightening consequences. Drawing on the impressive Candle House Collective repertoire, participants are once again implanted into the most important moment of a character's life. Claws is not afraid to bring up complicated emotions in participants, confronting them with their own mistakes and darker natures. The show weaves traps that set up one of the most piercing twists that I have ever experienced in an immersive production. Participants should be aware that the content is fairly dark. It is recommended that they be comfortable with high-intensity decision-making, and difficult emotions and outcomes. Approached sincerely, Claws possesses the ability to challenge participants' perspectives and to inspire renewed appreciation for the people in their lives.
Find out more information on Candle House Collective and their upcoming shows on their website and Instagram.
---