The cabaret singer finishes her song – and that's my cue. I slip away from the rest of the customers in the bar, sneaking carefully through a door into an office covered with maps and codes. Standing before me is my new boss. "I've got new information on the enemy," I say to him. He flashes a vindictive smile and responds, "Well done, Comrade." I'm one step closer to becoming KGB.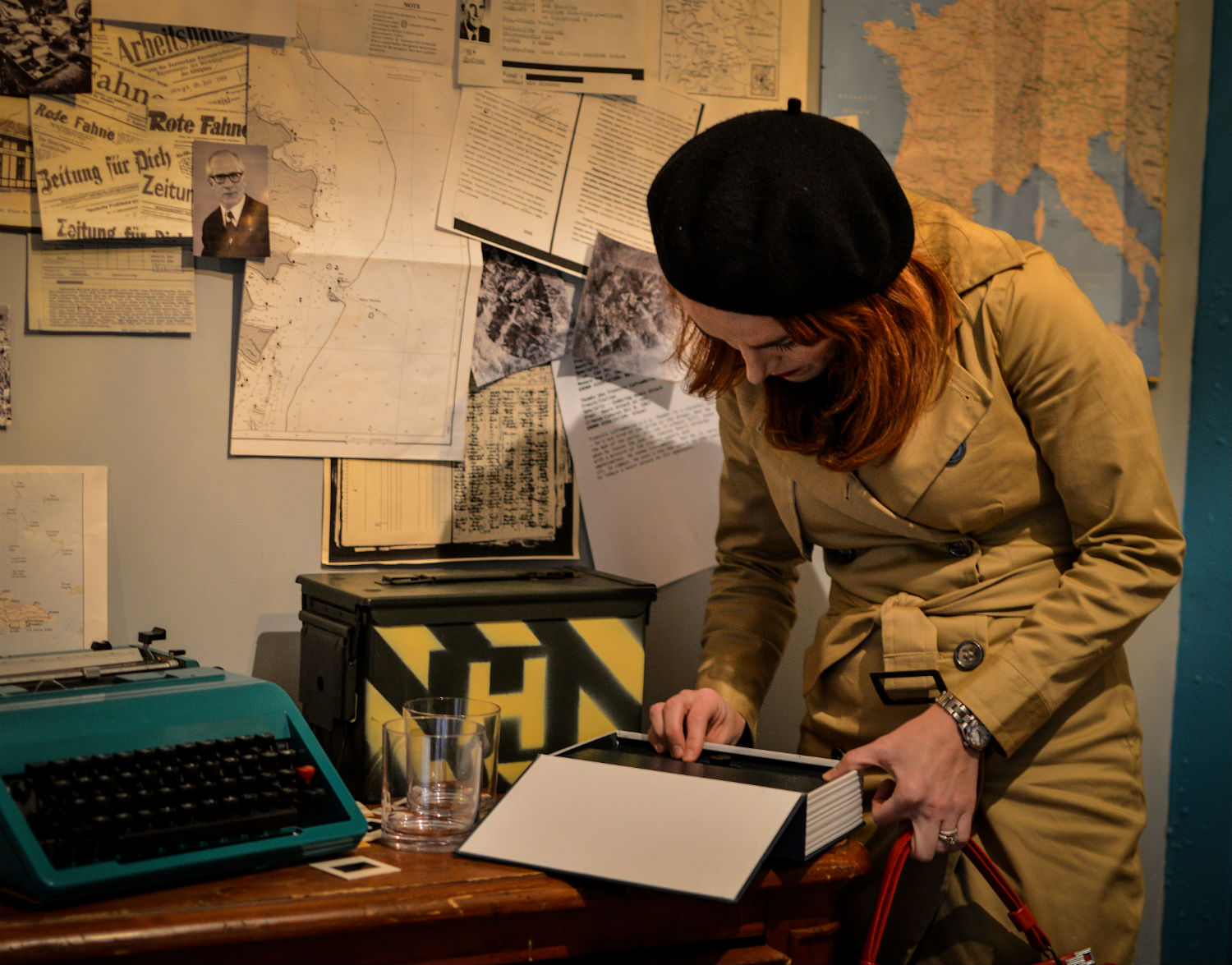 Crimson Cabaret is The Unmarked Door's new immersive production set in the dangerous world of 1960s West Berlin. A true sandbox experience, Crimson Cabaret allows participants to experience a tale of spies, intrigue, and the Cold War in whatever fashion they enjoy. Audience members can choose to simply take in an exciting night of cabaret, to become involved in the ongoing spying in the club between East and West operatives, to solve a series of murders that happen within the club, or almost any combination of the above. It's a fascinatingly wide series of options that are available to every guest who enters the Cabaret.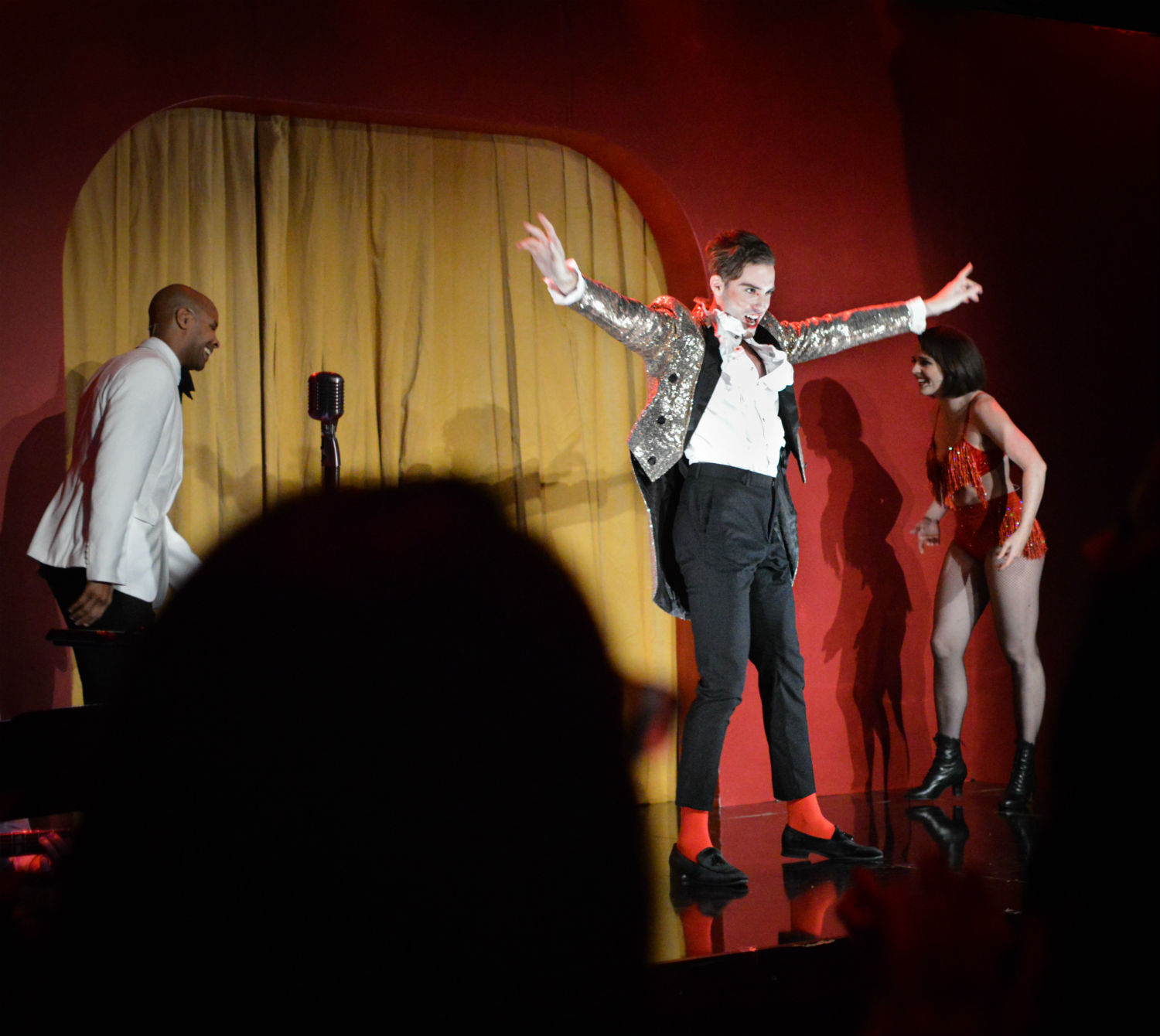 For those who want to watch the entertainment, Crimson Cabaret succeeds admirably. An ongoing series of performances pervades the night under the control of the club's MC. Played with absolute precision and charisma by Ryan Leslie Fisher, the MC is a whirlwind of a character that seems nearly omnipresent throughout the night with his winning smile and attitude of excess. The other performers are equally enthralling. As local West Berlin star Mimi, Sara O'Dwyer offers multiple burlesque performances that showcase both her incredible outfits and her exquisite talent at the art form. Michelle Vezilj infuses her role of Anya, the Russian star who has come to this Western city for a single-night performance, with singing that is both perfect and heartbreaking. Catie Faye Smith brings impeccable comic timing to the awkward performer Lizette, a mute cabaret dancer/clown who steals the show every time she flounders her way onto the stage. There's even a top-notch aerialist character called Shirley, performed with precision and flair by Emily Yetter (Meredith Treinen's Grief). Every single performance in the cabaret is worth checking out and, for many guests, may even be strong enough to overwhelm the other immersive elements.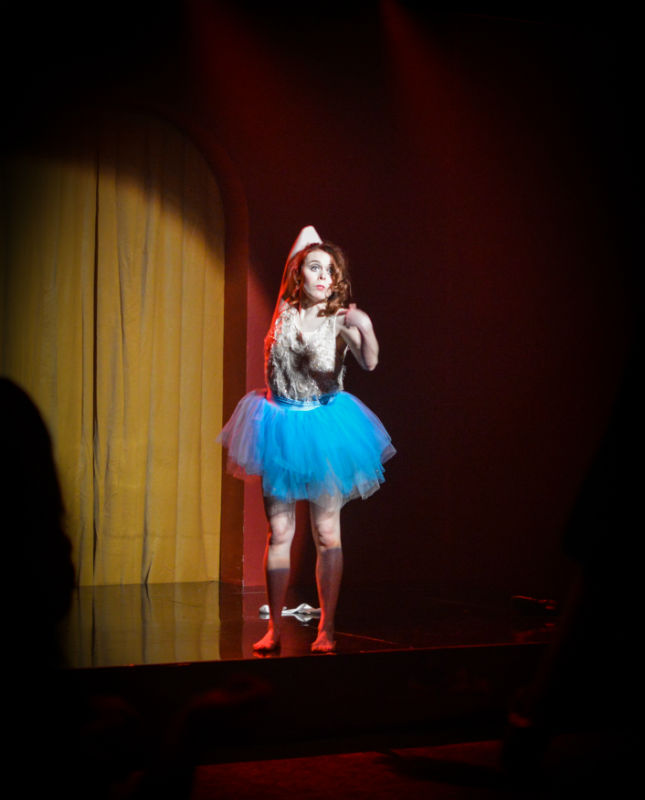 But watching the entertainment is far from the only drink on this club's menu. West Berlin in the 1960s is at the height of the Cold War and the cabaret is crawling with various people with opposing agendas. In one corner, Robert Fleet holds court as the champion of British attitudes with his superb performance of Noel Coward (occasional outbursts of songs and witticisms included). In a darker area, participants can find Alan Grinberg's sharp and dark performance of Boris, the Russian whose secret identity as KGB is a secret that is known by every spy in the community. Terence Leclere's (Metaforyou) turn as French playboy Lukas appears over the top at first, but suddenly crystallizes as the night progresses into much greater clarity. Even the stage performers have agendas and goals and stories that can be uncovered by those who choose to explore the club and interact with those around them. At every turn, characters are there to entertain anyone who wants to interact – so many, in fact, that I only had time to converse with half of them before the night was over. Other guests, for instance, have raved about Dasha Kittredge's (Under the Big Top: Atlas) portrayal of Jones, whose allegiance is hard to fathom due to her coy demeanor, making earning her trust and learning her true goal a hard but worthwhile endeavor.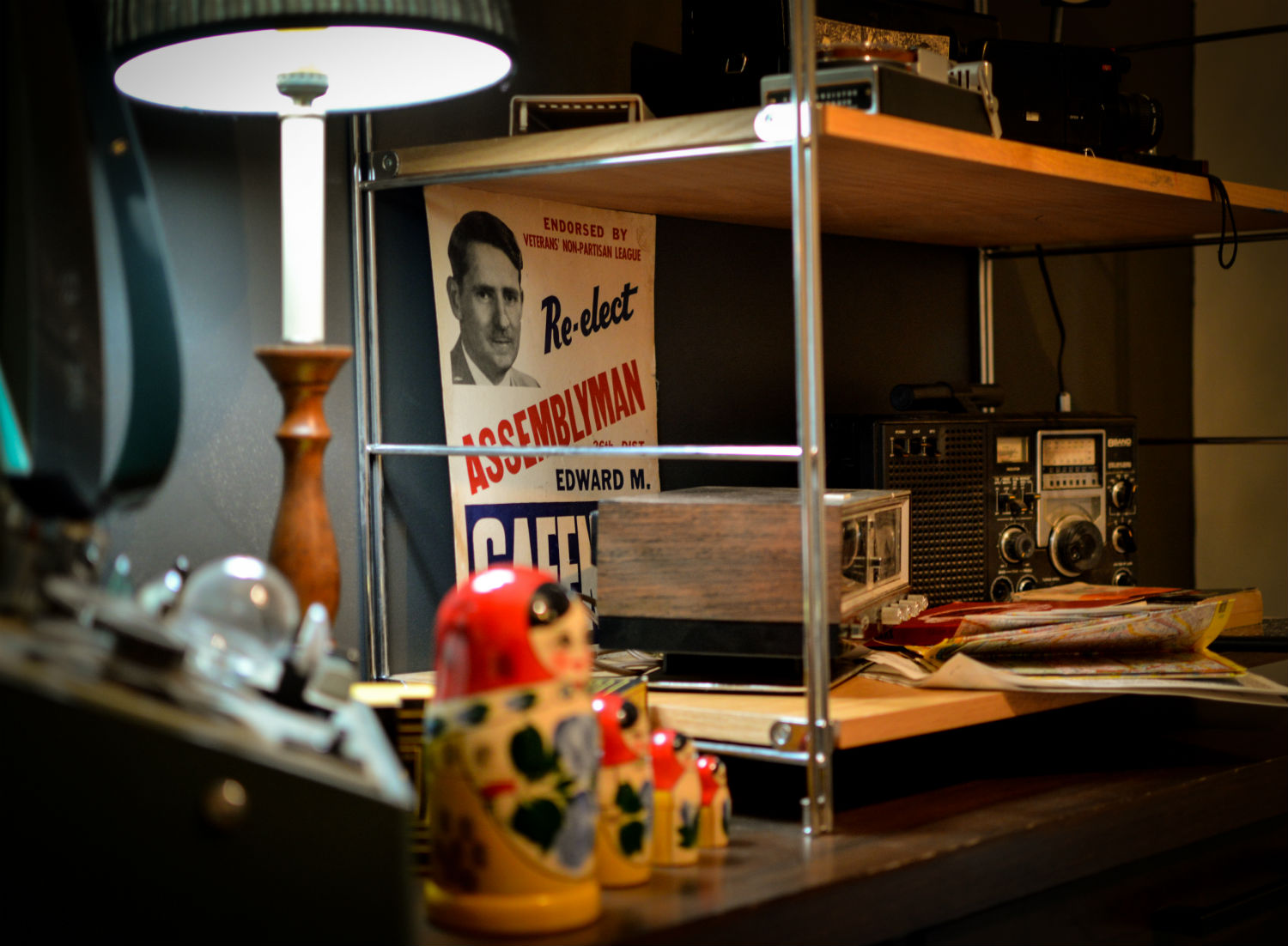 For those participants who want to go even further, they can undertake missions for characters that can help or hinder other characters' plans for the night. Participants can be asked to pass along specific code words to gather intelligence or be asked to question other spies without giving away their own allegiance in the process. These options become more important when a murder-mystery surfaces in the latter part of the show. It's enormous fun for those who want to be engaged at such a level, and it helps participants invest in their missions or in solving the murders. For those who want to be more passive, watching guests sneak through the club on various tasks is almost as much fun as everything happening on stage.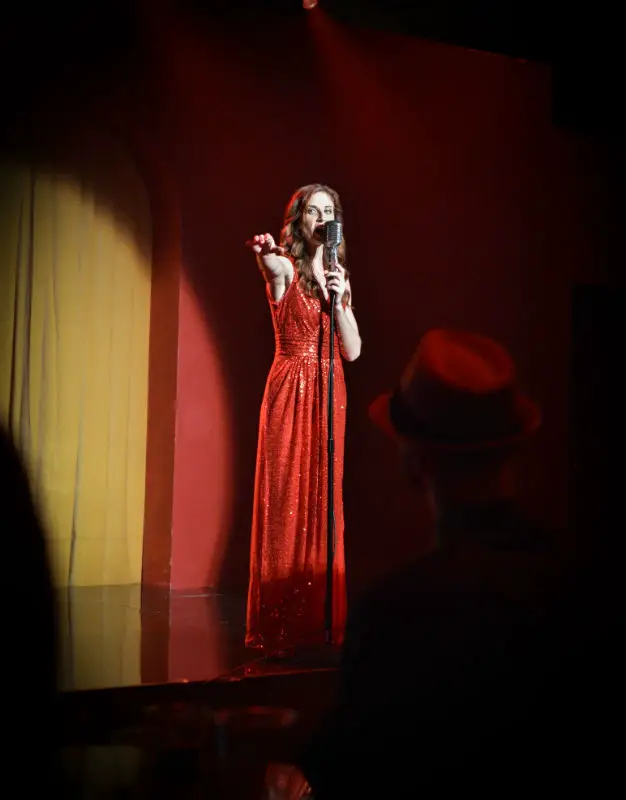 Best of all, because this is a true sandbox production, there is no wrong way to experience the show. Participants can choose a side and work to help it win the night or they can attempt to play double agent and work with (or against) multiple sides. People can team up to accomplish a task or try to trick other audience members into doing something for them. One of the most enjoyable moments of the night came when I worked with another spy to trick a target into giving us information. My partner started the conversation, intentionally upset the target and then departed, leaving me to calm the target down, getting the important information in the process. When sandbox shows are designed well, they allow for this sort of organic interaction and in-the-moment agency. Crimson Cabaret encourages this sort of interaction and more – all with a great deal of fun along the way.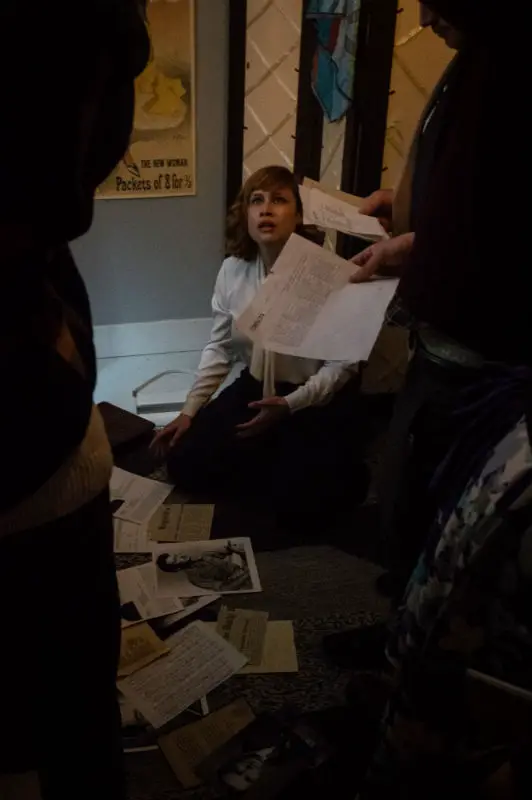 Praise also needs to be given to The Unmarked Door and the team behind the scenes of the production. Lola Kelly's writing spins a great tale that is elevated by her smart directing choices and in the pacing of the main beats throughout the evening. Even in the preview performance that I attended, the story was engaging, entertaining and exciting to be a part of as it happened, and I expect everything to get even better with each performance. Rolfe Kent and Savannah Wheeler make a fantastic music team with songs that are both right for the atmosphere and also offer clues to the stories happening off the stage. Tajka Wierzbicka's lush and gorgeous costume designs are perfect in encapsulating the show's time frame. Madeleine Maloy's set design and props are equally good, filling corners of backstage and drawers with exactly the right items again and again. Rai Quartley's onstage choreography fits the cabaret style exactly as one would expect, and Jo Ann Mendelson's fight choreography adds exciting and smart accents to the ongoing narrative of the evening. All the pieces of the crew are working in unison here and it shows in the production's exceptional quality.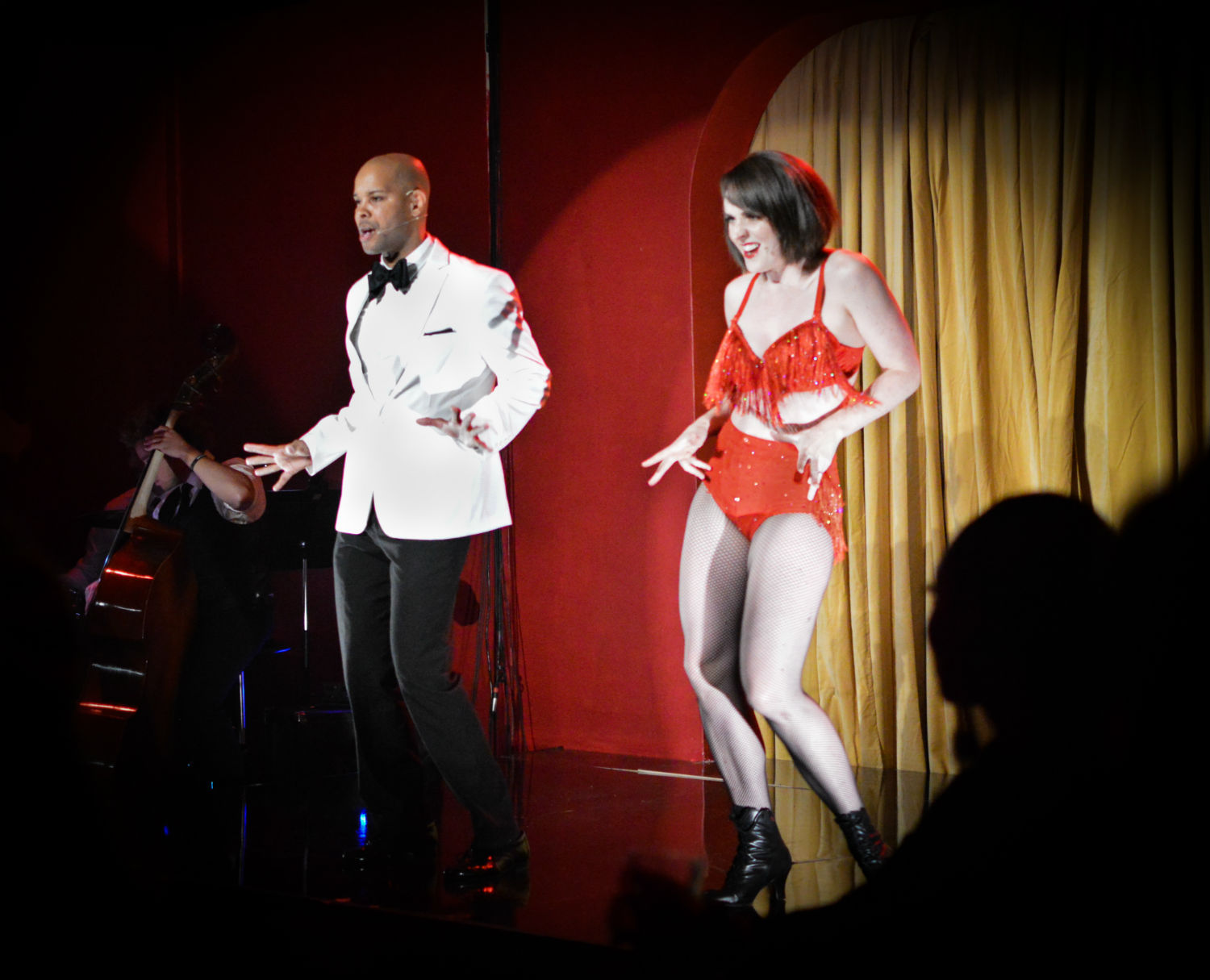 From start to finish, Crimson Cabaret is an absolute joy to experience. It's an exciting spy story, a wonderful cabaret, and a fully-sandbox immersive production rolled into one truly enjoyable night. The combination of great story and stellar cast should make this a very popular cabaret for a long time to come.
Crimson Cabaret opens runs through December 29th; tickets available HERE. Find out more information on Crimson Cabaret and The Unmarked Door on their website, Twitter, Instagram, and Facebook page. Check out our Event Guide for more immersive events throughout the year.
Photography by Destiny Petrel.
---