It's a lively night in Hollywood. People laugh, drink, and sing along with the musical that's happening all around my table. As we raise our faux lighters that glow instead of ignite, the actors stream directly past me, belting some of the most classic pop-rock of all time. It may be 2020 on the streets outside, but in here, we're smack dab in the excess of the '80s, where rock was loud, hair was teased, and people wanted to rock and roll all night. The message is loud and clear: Rock of Ages has come home.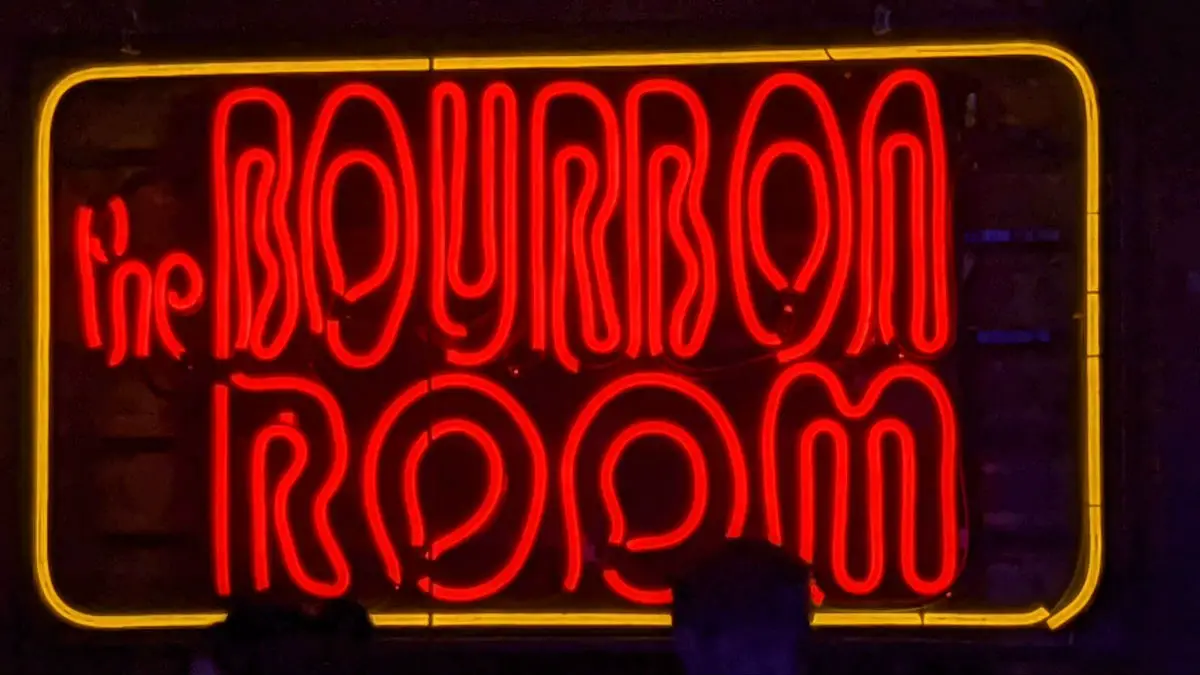 Rock of Ages has returned to Los Angeles with an immersive-style production off Hollywood Boulevard. With a brand new stage enclosed inside a brand new bar, The Bourbon Room, Rock of Ages is designed to be an experience for both locals and tourists. It has a real bar, an immersive pre-show, and a theatrical musical in a space where the staging envelopes many of the audience's seats. It's an immersive version of the jukebox musical that's always enjoyed interaction with the crowd.
In many ways, bringing Rock of Ages to Hollywood Boulevard makes incredible sense. The musical was spawned on this same street at the King King club in 2005, with a story of two lovers trying to make it big on the Sunset Strip during the glam rock decade. The L.A.-centered tale moved through two more local venues on its way to getting five Tony nominations for its Broadway production, adding multiple other locations and tours, spawning a movie version with Tom Cruise, and even landing in Las Vegas. Through every version, the musical has remained an L.A. story woven through some of the biggest rock-and-roll numbers produced during the Reagan presidency.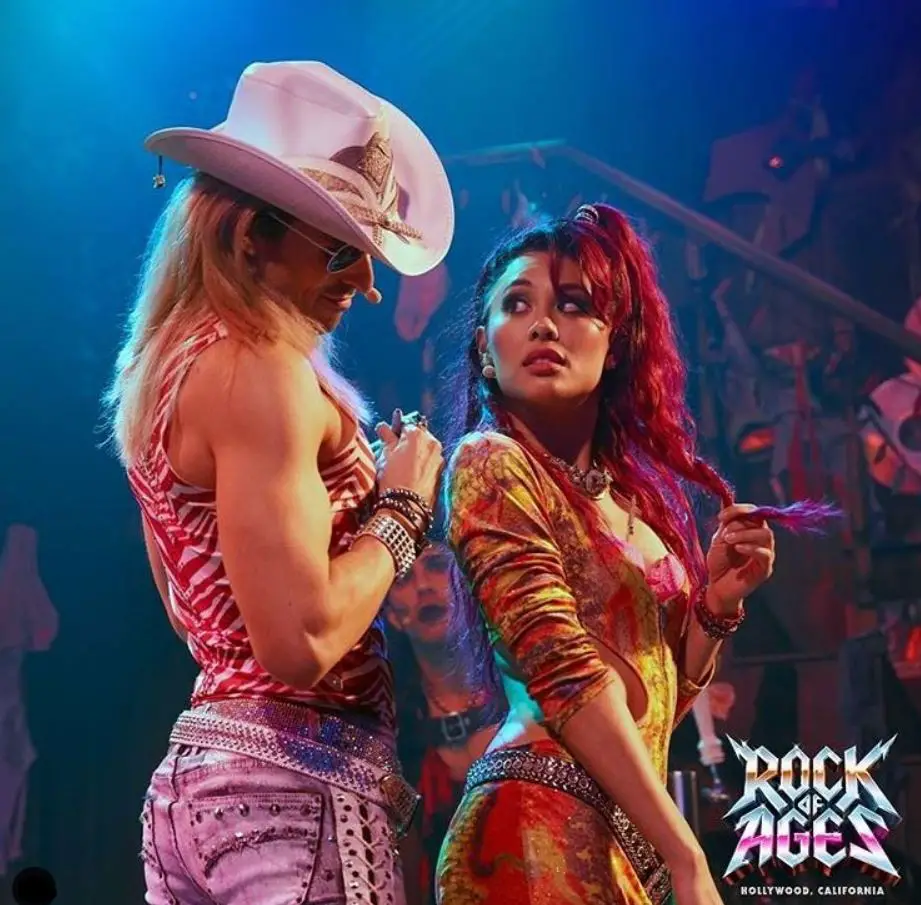 This newest production brings Rock of Ages' best aspects to audiences in fresh, enjoyable style. First, the location is absolutely fantastic. The Bourbon Room is intended as both a real bar for Hollywood and the waiting room for the show – and it is a wonderful bar. It's clean and elegant while at the same time having lots of decorations that suggest the rough and tumble, overly hyped nature of being a rock star. It's legitimately a beautiful spot that opens before the show and stays open for normal bar hours after the performance is complete – often with live music as well.
For those attending the show, the bar has an even greater element. Running up to the opening notes of the musical, audiences can interact in multiple ways with immersive actors roaming the space in character. Created in conjunction with the Ovation-nominated After Hours Theatre Company these characters bridge the world between the 2020 bar and the musical's 1980s setting, as they seem to have leapt straight out of that previous decade. As audience members speak to characters such as Stevie (as in Nicks) and Tommy (as in Shaw), they can help lovers unite, get a (temporary) tattoo, book a rock band, and even, perhaps, help score some "illicit" party favors. The level of interaction is entirely up to each guest. It can even be ignored completely – I'm certain from watching those waiting for the show that most of them never even realized these characters were there. But for those who want to have some fun before the show starts, there is plenty of enjoyment to be found.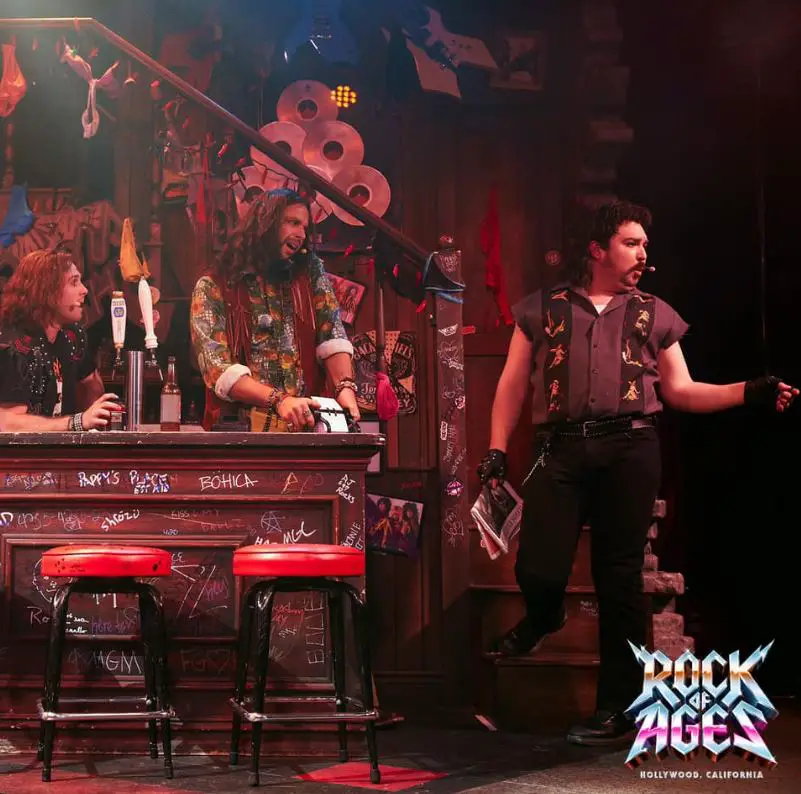 The performance space offers a different level of enjoyment. It's a stunning area full of neon signs echoing the past Sunset Strip, beautiful stained wood walls, and a stage that surrounds the front half of the audience who all sit at tables. The cast utilizes everything from stripper poles to a central raised circle to the tables and even audience members themselves as they perform. Those guests seated in the front half will find themselves constantly turning around to catch as much of the performance as they can. This show has always felt sort of like attending a concert and this space leans into that idea all the way. While the staging wouldn't work for every musical or play, it's the perfect design for this show and I was enthralled by it.
As for the performances in Rock of Ages, there is some incredible talent singing and dancing – sometimes steps – away from the audience. As narrator and forever-rocking Lonny, Matt Wolpe has impeccable comedic timing and charm – both of which are vital to keeping that character just as cheesy and silly as he should be. As young rocker wannabe Drew, Ian Ward has fantastic pipes and uses them literally dozens of times throughout the show. Regina Levert (as Justice/Mother) smashes her numbers without fail, even earning a spontaneous standing ovation the night I was there. Nick Cordero returns to the role of Dennis after playing him on Broadway, and it's great that he's done so. His portrayal of the worn out, seen-it-all club owner is not only funny; it's one of the most heartfelt roles in the production. As Stacee Jaxx, the rocker at the height of fame whose fall is as hysterical as it is common in the music world, Sean Yves Lessard brings an arrogance to the first half of the show that was so legitimate it seemed to stem from the actor himself. That commitment to the character's needs makes his comedic turn in Act Two one of the highlights of the show. The other highlight is Stephanie Renee Wall as Regina/Candi. First, she has one of the best voices in the show – and if the show has any flaw at all, it's that Wall's voice is underutilized. Second, her transformation into Candi is so complete, it took me until the curtain call to realize that it is the same actor. It's rare for someone to have that level of transformation and I absolutely want to applaud someone whose skills are that perfect.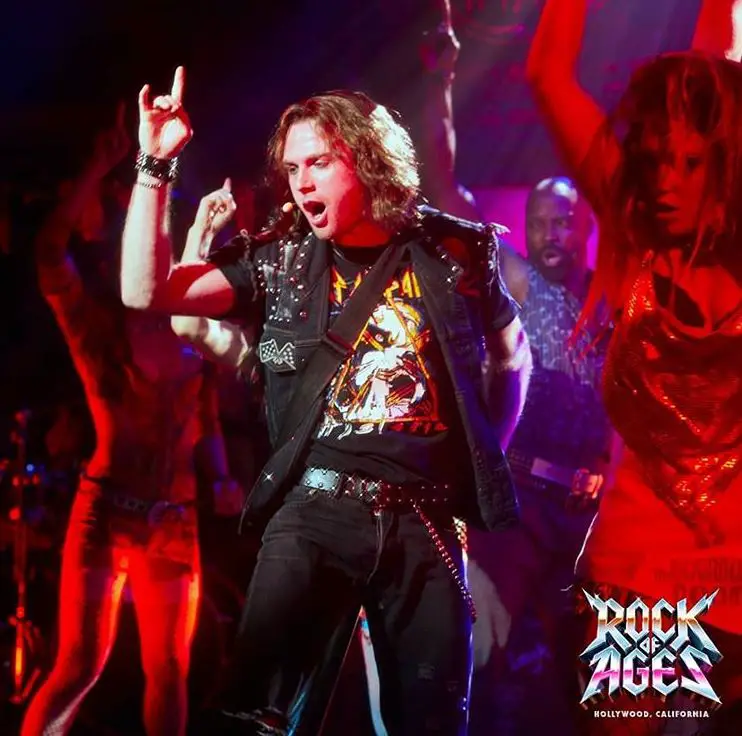 Rock of Ages breaks the fourth wall constantly and this production is no exception. Jokes about the quality of the movie and reminders that the characters are actually actors happen throughout, and the space is intimate enough that most of the jokes land. Had the space been less inclusive in how it seats its audience, stepping out of character might feel forced – but here it seems to fit the show's nature well.
In fact, the best thing about Rock of Ages is its commitment to being the show it wants to be. There's something about this production that's a little rough around the edges. The theater space is overloaded with reminders of the Strip in a way that's hodgepodge yet endearing, excessive and yet exactly how the Strip used to be. The performances are a little loose. The singing is a little raw. The music (performed live by a real rock band) is a little jagged. But that's also what rock and roll is like. It's never perfect or 100% polished – it doesn't want to be. Rock and roll wants to lay it all out there, have a drink, smoke something, and, most of all, remind everyone that you don't need nothin' but a good time. Rock of Ages works just like the best rock and roll – wild, live, and a hell of a lot of fun.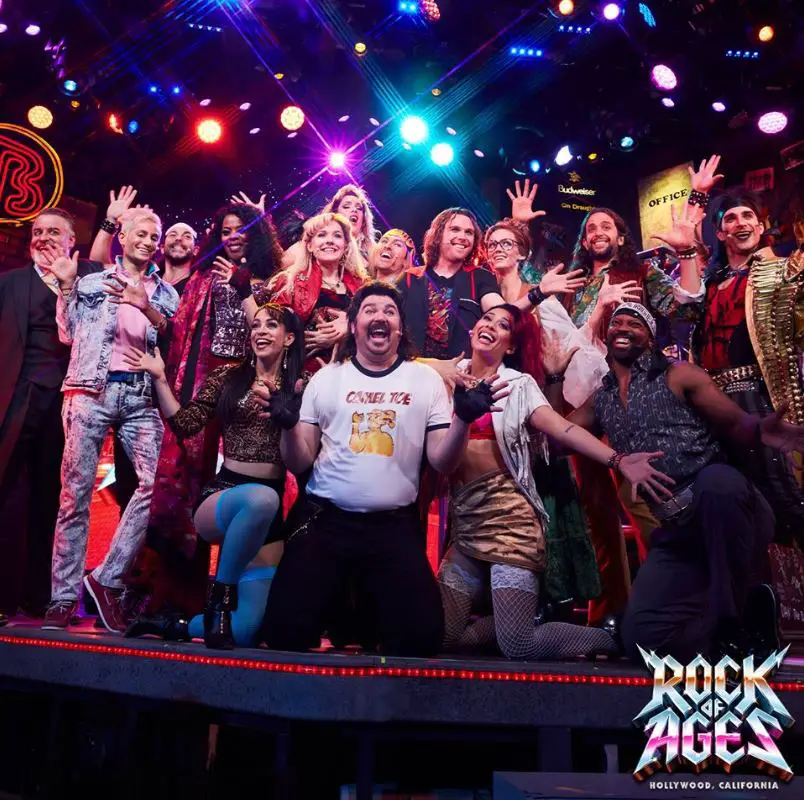 Rock of Ages Hollywood is like seeing your favorite band at a local drinking spot. After its wild, "let's put on a show" start, the grown-up Broadway debut, the sanitized film, and the over-produced Vegas blowout, Rock of Ages has finally come home. Like a rock star who has had a few ups and downs, Rock of Ages has found its next groove. A little older, perhaps. A little wiser. A better venue. But still the same old music, the same old style and just as much damn fun to sing along with as it was when you first heard it. Long live Rock of Ages, and I hope its concert plays for audiences at The Bourbon Room for a long time to come.
Rock of Ages runs now through March 29th; purchase tickets HERE. Find out more on the Rock of Ages website, Twitter, Instagram, and Facebook page.
---