I'm hanging out in a comic book shop, pretending to be a customer. As I sip my wine and browse, I overhear Jesh, a pretentious twenty-something, discussing his band and ad-libbing song lyrics while he's on a date with Adele. Comics and collectibles are a mere decoy. This is the reason I am there: To observe this young couple's date and decide the young woman's romantic fate. Will she find Somebody to Love?
Writer/director Matt Harry dives into the trials and tribulations of today's dating scene with Somebody to Love, his first immersive piece. Taking place at locations around Magnolia Park in Burbank, CA, this one-off experience (which is rumored to possibly be remounted for Valentine's Day) takes audience members on a light walk while following Adele on dates with three different men. The audience mainly serves as flies on the wall, carefully observing and processing Adele's love life, only to decide which suitor she should continuing seeing at the end of the event. While guests have agency in how the narrative concludes, there is only slight interactivity during the dates themselves – including singing, object twirling, and even some dancing.
Somebody to Love humorously explores the difficulties of finding love in a digital dating world that gives you so many options it's often hard for people to make up their minds. This theme is explored throughout, but most noticeably discussed when guests are introduced to Adele (Tricia Fukuhara), a young woman who has been dating three different men for six months and is having a hard time choosing one. Rather than listening to her heart, or her best friend Ibiza (Shakira Reedus), Adele convinces a bake sale's patrons (audience) to follow her on three dates and help her decide which man she should be with. Basically, she's crowdsourcing her love life, and I'm honestly surprised social media hasn't come up with an app like this… yet.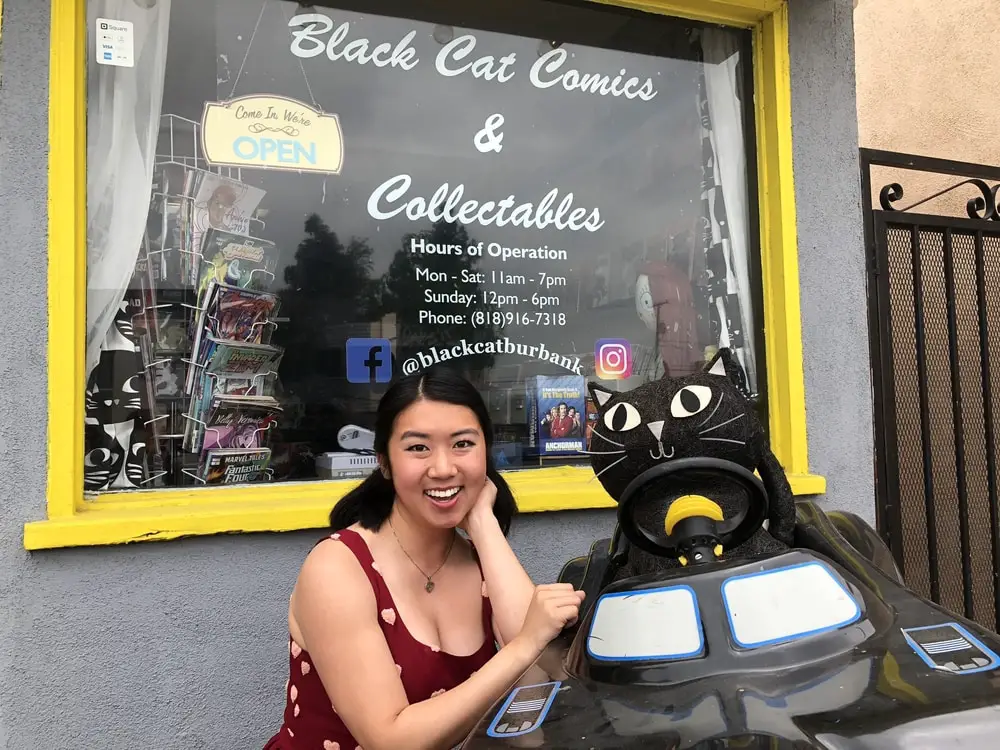 The actors of Somebody to Love are not only fun, but show agility in their roles in each performance. Adele makes her choice based off the audience's input, so the actors can try to influence the audience in a given direction. I found all of the actors to be strong. Fukuhara really sells the role of a millennial woman overwhelmed by the plethora of options and information in the world of online dating. Reedus plays the relatable best friend that people know they should listen to (but don't) very well. As for the guys: Brandon Raman (Lance), Samuel Blustein (Jesh), and James Brent Isaacs (Wil) play their roles to a tee. Prior to their dates, each guy is introduced by Adele, who emphasizes their good qualities. When we get to meet the men on their dates, each deftly showcases those qualities, whether in a good or bad way. Jesh, the musician, for example: Blustein touches on every positive quality that Adele adores about him, but also adds every other stereotype that one thinks of when they think of a "musician." He plays his role as though he is full of himself, and "makes up" songs that you just know he has sang to other women.
A site-specific production, Somebody to Love takes place within a block of beautiful Magnolia Park. The production visits several stores in the area, so the only constructed sets are the simple tables, tents, and chairs for the bake sale. In the wonderful comic book store that we visited during one of Adele's dates, Black Cat Comics and Collectibles, I found myself distracted from the story by all the merchandise. It is almost a disservice to the production to take place in a location that can detract from the narrative. With the ambiance provided by the shops, Somebody to Love only incorporates a microphone and speaker in the finale. The lack of a sound system can leave guests struggling to hear the dialogue during the rest of the performance, especially during the street scenes.
Somebody to Love's incredibly relatable storyline, talented actors, and great setting come together in a delightful romp about the problems with modern dating. The production left me with a sense of whimsy when I left, and perhaps believing someone can find love in Los Angeles.
Check out Somebody to Love Saturday and Sunday afternoons, July 20-21st, and purchase tickets here. Follow our Event Guide for more immersive entertainment throughout the year.
---