MC and room-filling personality Stewart Levine has been on the mic all night, energizing the room with hilarious and upbeat commentary over a soundtrack of absolute rock and metal classics. But there's a special mischievous enthusiasm in his voice as he announces the carrot course of Torched. "Tradition is that the most junior mechanic is required to hold the carrots." We look with concern at the rather young-looking mechanic who has been hosting us this evening, but he shakes his head with a laugh. "I don't do carrots. It's in my contract." Once an unfortunate rookie has been fitted with a welding mask, he kneels down on the ground as if he's about to be knighted, holding the plate of carrots high. With a flourish befitting a ringleader, Levine lifts his blowtorch to the sky before he and other mechanics collectively rain hellfire down on the carrots and their brave bearer.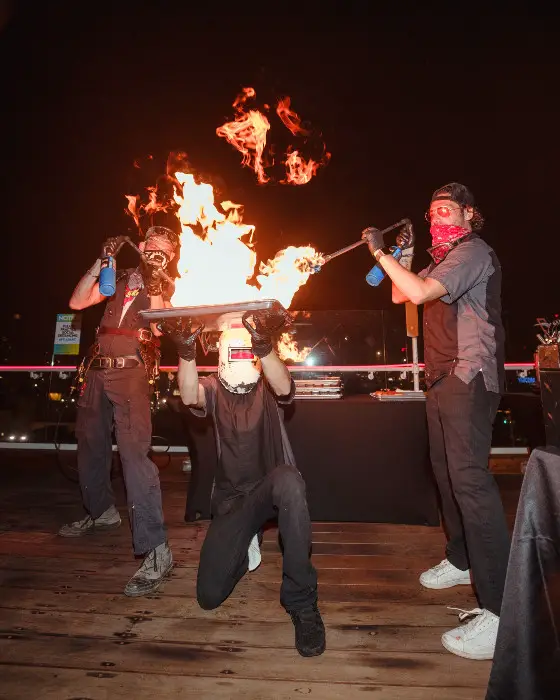 What Is Torched?
Torched by the Gastro Garage is a thematic and theatrical pop-up dining experience at the top of the W Hotel in Hollywood. This two-hour event includes eight courses, a specialty cocktail, and front row seats to fiery displays of the mechanics' molecular gastronomy skills. Participants begin their evening at cocktail tables where they'll have a chance to chat casually with the mechanics and other attendees (from a covid-safe distance). From there they move to tables fitted with all of the equipment for the mechanics' magic, and they end the evening relaxing in cabanas for dessert. The tone is high-energy, high-octane, and over the top in the best way. The food is delicious and the experience is upscale and polished while defying expectations and rejecting even the faintest hint of stuffy food-snobbery.
Stewart Levine is a force of nature, and he begins the evening by introducing his goal of making a molecular gastronomy experience that is accessible to all – and that showcases the fun in what is usually seen as an intimidating culinary art. Each mechanic we interacted with was personable and engaging, in addition to being extremely talented at their craft. Interaction varies by table, but participants will get as much as they give, and the mechanics are always ready with banter, stories, or questions for their guests. They possess a remarkable ability to read the room, and Levine especially brings guests together by reporting funny moments from various tables over the microphone, so that nothing is ever missed. And of course, the food is delicious. The flavors, textures, and foams (so many foams) come together to make every course incredible and surprising. The level of artistry, style, and presence demonstrated by the staff of Torched surpasses any event I've attended in recent memory. Torched brightens the world around it with non-stop energy and fun.
Inside the Garage
Torched sets the mood with rock 'n' roll, power tools, and motorcycles. Even the people making the food are "mechanics" rather than chefs or performers. The "garage" theme serves Levine's goal of making molecular gastronomy fun and accessible, and allows the talented team to take on roles rather than just serving food. The atmosphere is nostalgic alt '90s, and the attention to detail is such that guests really feel like they've stepped into someone's garage to witness some sort of edible science experiment. Imagine your food being roasted on a drill bit by a blowtorch. It's over the top and zany in the best way possible. The vision really comes to life here; it's a bit like a rock concert but with sophistication and flair hiding in the details. There's an excellent balance between interaction with the mechanics and time to enjoy dinner with your party. Budget over two hours for the experience and come starving. 
We Are Actors
During his opening speech, Levine discloses that he is first and foremost a trained actor rather than a chef. He downplays the food itself in favor of the larger experience. His goal is to create moments that bring people together in unique ways, which he acknowledges is especially challenging during covid. This puts into context how theatrical the experience feels. While the mechanics introduce themselves by name, they are clearly taking on personas and characters within the space, bringing bravado and a sense of reckless exploration to what would be, even on its own, an exceptional culinary experience.
Levine is a firecracker. He can commonly be found poking good-natured fun at various diners. One woman during our visit attempted to eat one of her tanks (garage-speak for donut-based courses) with a fork and knife, and earned the name "fingers" for the duration of the show. I was on the receiving end of a bit of teasing as well when I was caught off-guard by Levine's friendliness and directness. Levine manages to make everyone feel at ease. He's a gracious host, always checking in on the tables and, as garage manager, making sure his mechanics are performing up to standards. He's also hilarious and engaging as an MC, issuing call-and-response cues to the team of mechanics, proposing toasts, or simply dancing along with participants to some of their favorite throwback hits and demanding multiple times that the music be turned up. He's the life of the party through and through, and is able to be touching and genuine in one moment and, well, posing triumphantly with a blowtorch to the sky in the next. He uses his acting background to truly create a moment, an energy, and a richly thematic experience. It's evident to everyone in attendance that he deeply loves what he does.
Levine is supported by an entire team of talented mechanics. We interacted with Michael Owens and James Campbell at our table. Both were friendly, funny, and helpful without being intrusive. They were always available with more information about the food in front of us. And believe me, it was needed (you are supposed to dip your carrots in foam, but you are not supposed to pour your shot into your donut). Co-founder Adam Manacker worked alongside Levine, the other co-founder, riffing with him and ensuring the event functioned smoothly. All of the mechanics are gracious and attentive hosts, and switch from the pinnacle of hospitality to the showmanship of circus performers or rock stars at the drop of a hat.
The Garage Is on the Roof
Torched takes place in an outdoor space at the top of the W Hollywood, accessed through a private elevator. The entryway is decorated with motorcycle paraphernalia which, along with the excellent playlist of classic rock favorites, sets the tone from the moment guests step into the space. The space itself is open and airy, with plenty of room for social-distancing. The set here is functional, full of the actual mechanical equipment that will be used to create the food. It's mysterious and fascinating to see all of the power tools and strange devices scattered across the stations. From cocktail tables to seated table stations to relaxing cabanas, the space is used in its entirety, complete with a gorgeous skyline view that adds a dramatic backdrop to the performance.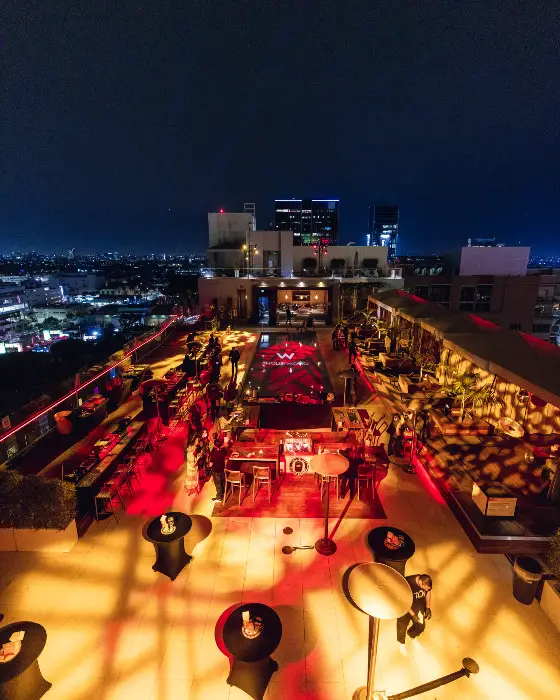 Tanks?
Although Levine downplays his culinary experience, the food is top-notch. The evening begins with a smoky margarita with a cinnamon-sugar rim and a blow torched buffalo blue cheese foam appetizer served tableside as guests settle in, socialize, and meet the mechanics. The Gastro Garage primarily serves up savory, donut-based, deconstructed versions of classic entrees that they affectionately call "tanks". We were given the Piston Pizza Tank and the Cubano Tank, and both were absolutely incredible with distinctive and unique flavors and textures. Both were, of course, blow torched, and the torched mozzarella paired with fresh basil made the Pizza Tank pretty special. We were also given two substantial portions of drillbit blow torched proteins (salmon and steak), both of which were cooked in front of us and included foam dipping sauces. Our side was the high-stakes caramelized carrots previously mentioned, and we retired to the cabanas for two dessert tanks: the Fire Berry Tank, a mildly sweet and complex strawberry dessert, and the Princess Buttercup Tank, a decadent and rich double-chocolate peanut butter piece of heaven, and a favorite among the mechanics.
Audience Engagement
There are frequent opportunities for audience engagement with the mechanics, but it's all by choice so as not to disturb the dining experience for more reserved guests. Levine and the mechanics will introduce themselves at the beginning of the night and stop by their assigned tables for small talk and questions. The mechanics are good at reading body language and are on hand to answer questions or give guidance for a course without hovering. Levine calls out and spotlights different tables in a friendly and good-natured way, and he'll play along with more enthusiastic and vocal guests. Overall, the level of interactivity is appropriate to that of a seated meal. Attendees will still have plenty of privacy during the meal.
Final Thoughts
Torched is one of the most delightful experiences I've had in a long time. The experience burns bright through the boredom and isolation of quarantine with an experience that connects, excites, and satisfies. Levine is like the Willy Wonka of molecular gastronomy, a quirky and enthusiastic guide to a world that is foreign and fascinating to many. He is clearly passionate about and takes pride in showing this unique art form to the world. The experience is polished and thoughtful from start to finish. Torched makes an exceptional date night or night out with friends.
Torched is non-stop, high-energy fun. It is warm, often funny, highly entertaining, surprising, and delicious. The mechanics guide their guests along an explorative culinary journey – trust them and try everything. Guests are also encouraged to relax, to take in the space, and to have a few drinks and cut loose. Expect to laugh, smile, sing along, and be transfixed by the fiery theatrics. It's like a highly elevated hibachi experience, or a circus performance you can eat. Come starving and enjoy each bite; each course is unique and well-executed, and not a single one falls flat. This is one of the most positively fun and likeable experiences I've ever done, and has wide appeal to audiences of all types.
Torched explores the boundaries of human imagination, bringing guests out of their dreary isolation and into a unique and memorable shared moment. Calling to mind gritty and rebellious experimentation, the Gastro Garage wants to make tangible what audiences never knew was possible. Expect non-stop, high-energy excitement and a highly social experience. Torched inspires in the midst of a difficult time, and brings a dose of glamor and wonder that gives meaning to the human experience. If you want a polished and shocking culinary experience that feels like a real adventure, get yourself over to Hollywood and get Torched. You won't regret it.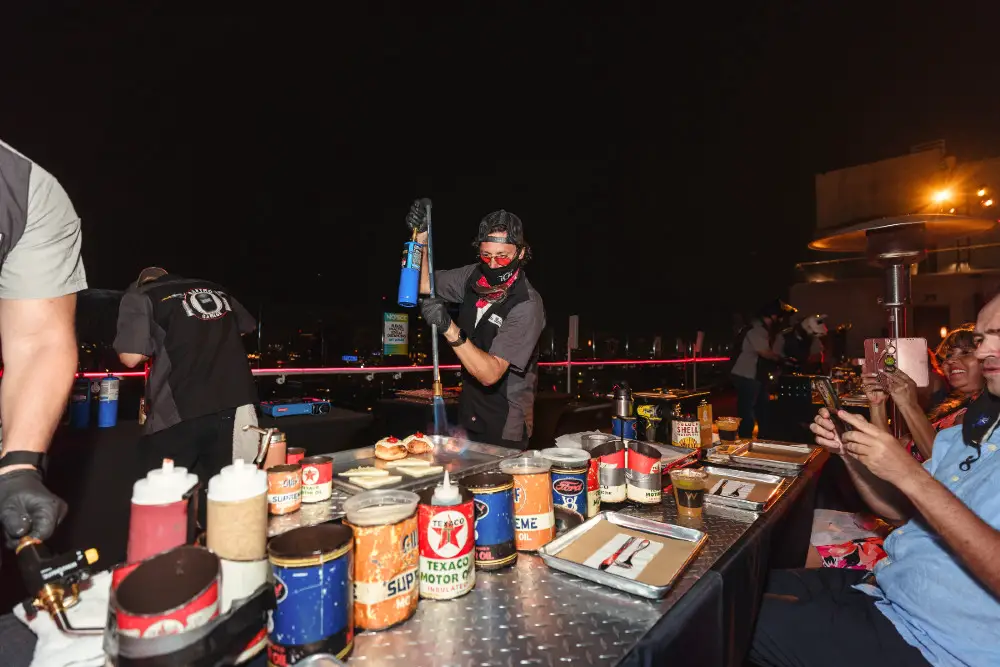 For more information, see Gastro Garage's website, and purchase tickets to Torched here. Also, check out the W Hotel Hollywood's Facebook page for other events. If you prefer virtual events, check out our Remote Experience Guide.
---