Choosing to go to a one-person show at the Hollywood Fringe Festival can be a game of chance. Sometimes you see a theatrical experience that is extraordinary; sometimes the experience is far more mundane. But what you do normally see is a production that focuses, in one way or another, on the life of the one person who created it. So when I heard that Mitchell Bisschop had chosen to create a fictional one-person show centered around a serial killer that claimed it belonged in the horror category, I was very intrigued.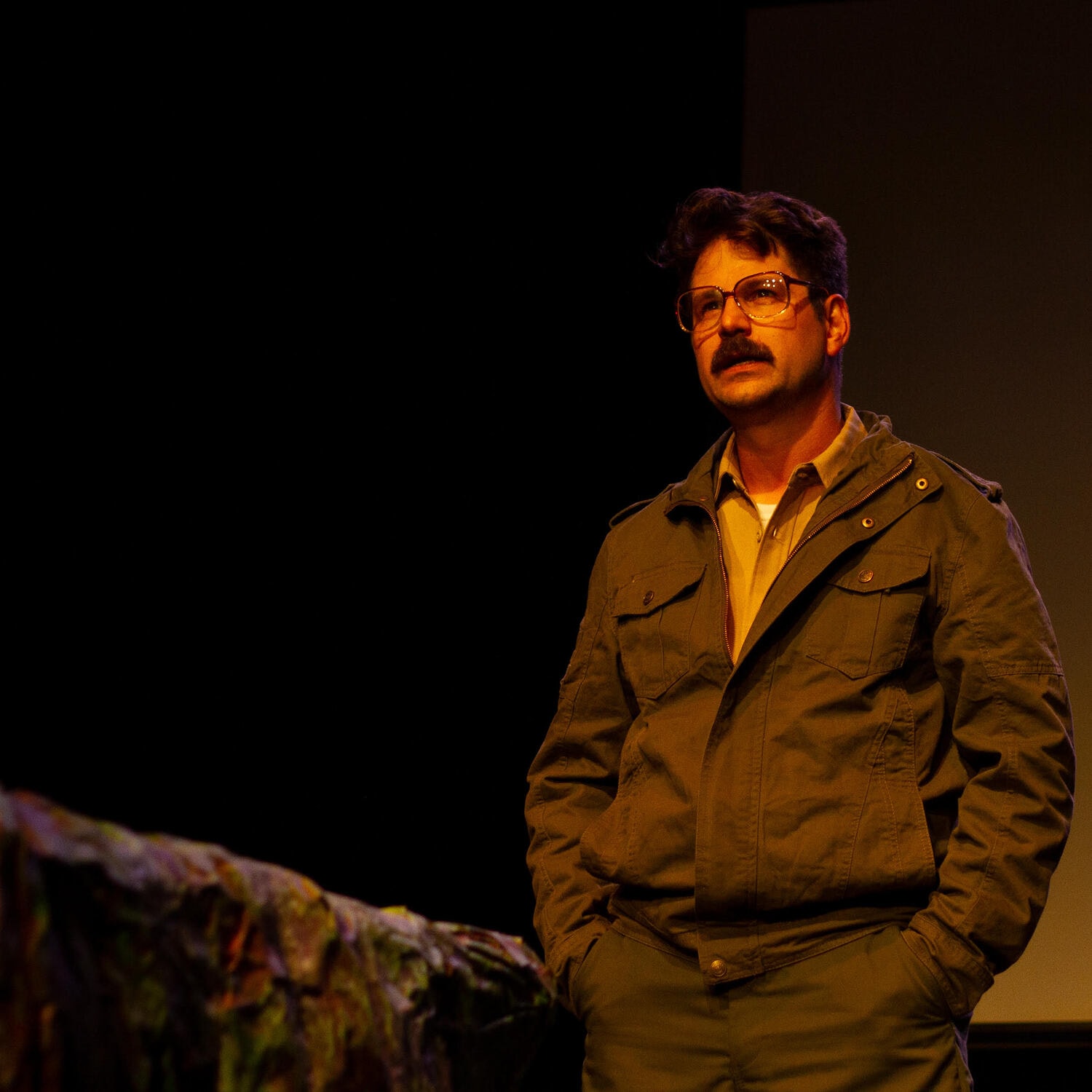 Good news. Bisschop has largely succeeded in exactly what he intended to make. Pit of Goblins works very well as a dark, horrible, and quite funny tale of a serial killer who believes he's found a way to avoid ever getting caught. Fueled by Bisschop's strong characters, smart writing, and strange but compelling viewpoint as a creator, Pit of Goblins comes across as one of the better horror experiences at this year's Fringe festival.
Pit of Goblins centers around Wayne, a mild-mannered serial killer, and those who are trying to capture him, largely one poor overwhelmed sheriff. But Wayne has an ace up his sleeve in this cat-and-mouse game. He has a literal "pit of goblins." Yes, I was confused as hell the first time it was introduced, as well. But as Wayne explains, the concept is very simple.
The pit opened up in front of him one day, and the goblins informed him that if he would bring them one dead body a month for food, he would be forever safe from being caught by the police. For a serial killer, such a deal would seem to have great value and Wayne took it instantly.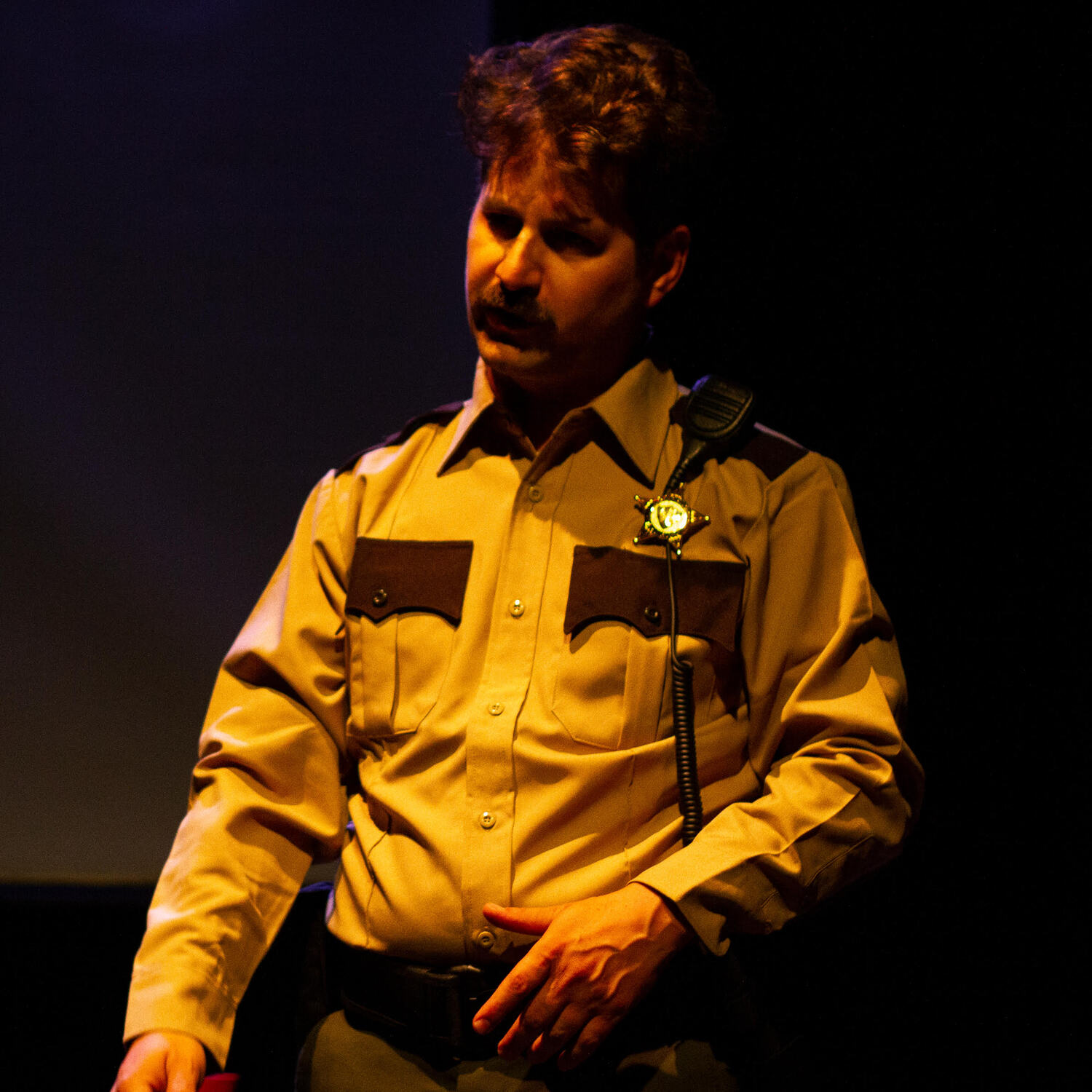 In fact, that's how we first meet him – bringing one of the dead bodies to the pit. But because he's a serial killer, he can't just bring them one of his normal victims. Those need to be found by the police in order to maintain his serial killer status. So the bodies for the goblins have to come from additional bodies he kills. It's not something he enjoys, he tells us, but it's essentially the price of a perfect business.
And that's when the story begins to spin into a wild tale of one actor, multiple characters. Is the pit actually a real thing? Or is Wayne delusional? Why is the sheriff so determined to make sure that nothing – no missing bodies, no serial killers, nothing – is going to stop an upcoming talent contest? Pit of Goblins starts the show with an unusual premise and runs with it without ever looking back.
In fact, I found that fearlessness in telling this tale to be the best thing about the show. Make no mistake – this is a weird tale. But it's also gruesome as Wayne happily explains in various scenes how he kills people for his hobby – and for his pit – and how upset he is that the media hasn't accurately reported the serial killer moniker he keeps pushing. It's also quite funny as we learn more and more about both Wayne and the sheriff trying to take him down. And through it all is a lingering mystery: Is the pit actually real? It's often very hard to blend multiple aspects into a watchable story and Bisschop has accomplished both in this show.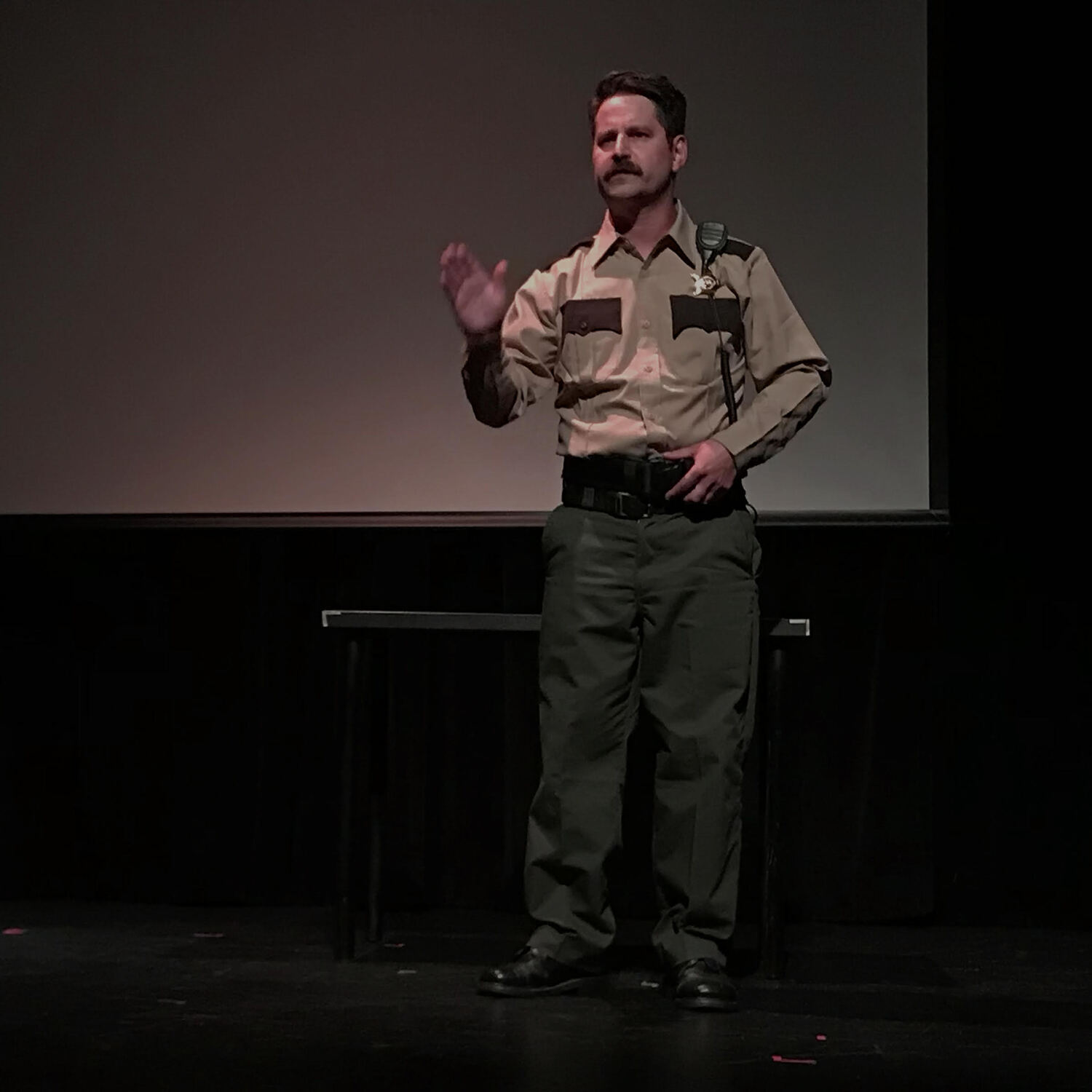 The only problems that I found in the show may be tied to my seeing the preview performance, but may be more deeply ingrained into the show. First, there are several very long scene changes that are covered by videos being played on the back wall of things such as famous serial killers or strange karaoke videos that feel as though they came from a serial killer's basement. I felt it likely these changes are this long to allow Bisschop to change costumes – but it also derails the forward momentum of the story multiple times. Starting and stopping like that became frustrating for me.
Equally problematic is the fact that the latter part of the story drags for me. There are several scenes that do not give us any new information – either plot-wise or character-wise – and these scenes feel pretty unnecessary. In fact, I think if these scenes were cut (and the changes were sped up), the show could be a full 10 minutes shorter. For me, that shorter length would be a far, far better pacing for the story.
Generating appropriate horror in a theatrical setting can be very, very hard. For most of Pit of Goblins, that underlying sense of impending horrible things looms very large in just the right way. Combining that horror with some excellent characters and sharp comedy equates into a show that is enjoyable and dark, funny and ghoulish, all at the same time. I have found myself returning to the story several times in the days since I saw the production. And that is what great horror stories do. They stick with you, spreading in the recesses of your mind and making it very hard to let go. Pit of Goblins is currently spreading in my dark areas and you ought to give it a chance to do the same in yours.
Find out more information on Pit of Goblins and buy tickets here. Keep up to date with all of our Hollywood Fringe Festival 2019 coverage here. Follow our Event Guide for more news and reviews throughout the year.
---